Open Monday, Thursday, Friday, Saturday 12-5 p.m.
About Sandra Freeman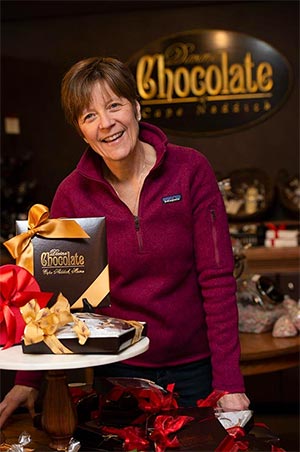 Sandra Freeman, owner and chocolatier has been making chocolates since the 80's and opened Divine Chocolate in 2006. She finds working with a quality chocolate a delightful way to spend long hours in the kitchen! Corresponding with customers new and old to send them their favorites is a complete benefit. This is a one woman shop!
Everything is made fresh and boxed to order. Sandra is asked daily how she stays so trim. Sandra does eat chocolate every day usually dark with almonds! She also does a fair amount of running, having run marathons and trail ultras. She enjoys the challenge, fresh air and the health benefits of running.
sandra@divinechocolate.net
207-363-1300 only available during business hours.
A note about shipping... Made in our licensed kitchen, we guarantee all of our products to be shipped fresh. We strategically ship based on weather conditions and use cold packs as necessary. Any temperatures over 70F during the shipping cannot be guaranteed that your order will arrive in the same state that it was shipped.
We have window service during our open hours with an an intercom and chip payment available.
We welcome you to call ahead and we will have your order waiting when you arrive.
---
Location
We are located on at 1480 U.S. Route One in Cape Neddick, Maine
---